Senior reviews "Everything I Never Told You"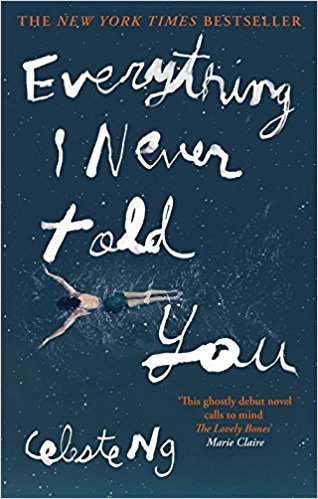 "Lydia is dead. But they don't know this yet." This is the first line of the debut novel Everything I Never Told You by author Celeste Ng. A book full of intrigue and secrets, it is a story that is sugar-coated in caring and family values, but what lies beneath is jealousy and tension.
The book takes place in the '70s and tells the story of a family of five. There is the excessively doted on Lydia, a 15-year-old girl who was recently found at the bottom of the town lake. There is her genius brother Nath, who, opposite of her, has been ignored by their parents his whole life. There is little Hannah, who has lived her life in the shadows beneath tables and hidden in dark corners. There is the mother, Marilyn, who aspired to become a doctor her whole life and made it all the way to Harvard, but had to drop out when she became pregnant with Nath. And there is the father, James, a man who never felt like he quite fit in anywhere in his life.
The story is told from the perspective of all the family members, and the time period intertwines between Marilyn and James' childhood, the children's childhood and the present.
As the heartbreaking history behind the Lee family is slowly revealed, the cause of Lydia's death begins to materialize in the reader's mind. We learn that the Lee family is not as they appeared on the exterior, family oriented and happy, but instead, they are broken and dependent on a fake sense of happiness that they created for themselves years ago after Marilyn caused a tragedy to strike their family.
This novel has taught me so many lessons about family and relationships. It has deepened the idea that everyone is different with their own flaws, different dreams, different appearances, different smiles, and that it so crucial to accept everyone and let them grow into their unique selves.
I very much enjoyed reading Everything I Never Told You and plan on reading Ng's newest novel called Little Fires Everywhere. Her writing style is short and sweet, and the topics she covers aren't simple or overplayed, and that's very refreshing to read.
Leave a Comment