Sarah Davis, Editor-in-Chief
September 14, 2019 • No Comments
The third Democratic Debate took place Sept. 12 in Houston, TX at Texas Southern University. This time, only 10 candidates made it to the debate stage due to the higher standards...
Sarah Davis, Editor-in-Chief
August 22, 2019 • No Comments
Washington Governor Jay Inslee, who ran a campaign focused entirely on the issue of combating climate change, dropped out of the 2020 presidential...
Recent News Stories
June 26, 2019
On June 26 and 27, the first presidential debate will air from 8 to 10 p.m. on NBC, MSNBC and Telemundo. This will...
May 29, 2019
The end of the 2018-2019 school year has finally come as seniors are preparing for after-high-school plans and...
May 22, 2019
Algebra 2 teacher Kenzie Sanchez received the Golden Apple Award May 22. Students vote on which teachers they...
Adam Jasper, Editor-in-Chief
October 12, 2019 • No Comments
It was a clash of high school football titans, but the first half was far from the high scoring affairs that Westlake had been so accustomed to this season. Instead, the Chaps...
Varsity football stifles Lehman, moves to 5-0 on the season
September 28, 2019
Earlier in the week, defensive coordinator Tony Salazar learned that he would have to be more than a defensive specialist Friday night. Without head coach Todd Dodge — who...
Varsity football prevails over Austin High in energetic rivalry game
September 21, 2019
Emotion was everywhere around House Park Friday night, taking many different forms from person to person. Through all the buildup, the trash talk, the diss tracks, everyone...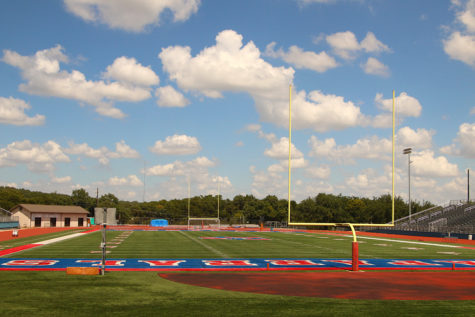 Varsity football takes it to Belton for second straight year, wins season opener
August 30, 2019
New and old faces took to the sidelines of Ebbie Neptune Field, some looking to prove their worth, others looking to continue success from last season. Whether experienced...

Loading ...
SportsCenter
Friday, October 12

Football

Westlake High School 44 - Lake Travis 14

Friday, September 28

Football

Westlake High School 54 - Lehman 0

Friday, September 21

Football

Westlake High School 57 - Austin High 0

Thursday, September 13

Football

Westlake High School 67 - Akins 0

Friday, September 7

Football

Westlake High School 21 - Cy-Ranch 25