Essential workers risk lives for our benefit: journalists, reporters (3 of 3)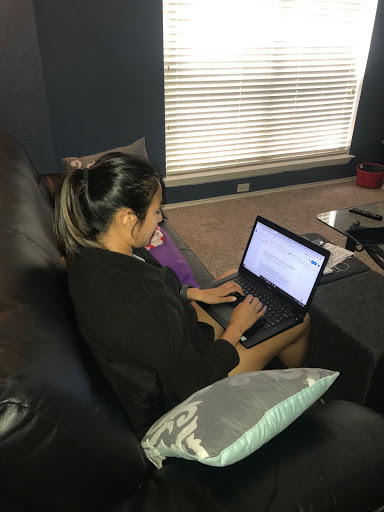 We are living in a time that will certainly go down in history. The disease, the self-isolation, the government responses, the recovery will all be remembered. One important component of living during a pandemic is documentation, specifically keeping up with the news and what's going on in the community during this unusual time. Luz Moreno-Lozano is a reporter at the Austin-American Statesman. She works closely with the community and is currently writing stories from home.
"Our offices are currently closed, so we've moved everything online, and everyone is working from home," Moreno-Lozano said. "Part of my job is covering school district meetings and city council meetings, the kind of small governments in those areas. Most of those have also moved to Zoom meetings, whether it's audio or video. I've been doing most of my coverage from my couch, from the kitchen table, but about once a week, I go out to cover breaking news, which could range from chasing court documents or covering a fire. It just kind of depends on the day."
Most of Moreno-Lozano's work as a reporter is done online, and she interacts with her colleagues through online communication softwares, such as Zoom, Google Hangouts or Slack. Still, she sometimes goes out in the field to report, risking contact with other people. 
"[My schedule] is pretty much the same," Moreno-Lozano said. "I still have to go to work and be online for my normal work hours. I'm working from home, and I work from my laptop. I usually worked from home, like, once a week before. Normally, when we're not in a pandemic, I'm probably out in the field four of the five days that I work. Now, maybe twice a week, I think [I go] out into the field."
Moreno-Lozano has found that there are many challenges to working in this manner, the main one being communication. 
"[Working] is a little complicated sometimes because all of us are working from home, so everyone's kind of doing this from a distance, which can be kind of hard when you work in newspaper business because a lot of the times you won't be together in the same room when you're editing a story or have questions," Moreno-Lozano said. "Communication, I think, is probably the most complicated part of this because you want to be able to communicate with each other making sure that your product is as accurate and efficient as possible."
An additional challenge is maintaining a good connection with sources for stories. 
"When you're meeting with sources, especially city officials, you meet a lot in a city council chamber or a school district meeting room," Moreno-Lozano said. "Sometimes you meet over coffee. So a lot of those in-person interactions that you need to maintain relationships with sources will kind of be bladed a bit, but a lot of us have moved to phone calls."
Mostly, journalists do not directly interact with COVID-19 patients. Still, they face many dangers going out into the field to report.
"For a reporter, it's not too terrible," Moreno-Lozano said. "A lot of stuff is online, so you can still talk with your city official. You can still attend your meetings; you're just listening over the computer or over the phone. But for some of our photographers, it's gotten really scary because they have to be out there taking photos of whatever is happening in the city, and they're the ones that have to be closer to people than some reporters do. But we're all trying our best to be safe and stay aware of the rules in place."
An additional worry Moreno-Lozano faces is breaking her old habits.
"I think what worries me most is just being complacent with what I've already been doing," Moreno-Lozano said. "So I'm interviewing a source and I'm out in the field and I'm not maintaining that social distance because I'm used to going up to someone and just saying 'Hi' and asking them for an interview. [What worries me] is not being self-aware and just [going on] autopilot because it's what I've done for years and it's kind of hard to break those habits." 
The news and guidelines regarding COVID-19 are shifting day-to-day in each state, so newspapers are essential to keeping up to date with the most current and accurate information. However, there is already so much worry surrounding the disease that misinformation can have detrimental effects. 
"It's important to report the facts," Moreno-Lozano. "You want to make sure that you have how many people in each county have been diagnosed and how many are recovering and how many have already recovered and how many deaths there have been. I got an email the other day about also including a population number because even though Travis County might have 800 coronavirus cases, Travis County probably has maybe a million residents, maybe not that many but close. Even if that's 800 people, that's only, like, an eighth of the population and that's a good way that we've been transparent in terms of not creating fear. So yes, the numbers are increasing every day, but you have to remember that this is only a small population of the larger population."
Moreno-Lozano encourages the Austin populace to continue to read the articles published in the Austin-American Statesman, both print and online, to support the publication. 
"Subscribe to the newspaper," said Moreno-Lozano. "The paper still comes out every day, so people can still read that normally and online as well. We've been covering [COVID-19], and we've made our online coverage free. Anytime you go to the website, you can read an article for free that's related to the coronavirus. It's also been helpful to have people subscribing and continuing to support local journalism because even after this COVID-19 is done, we're still out there covering school districts and cities and changes to highways and things like that that are important to our daily life."
Essential workers are a key part of what is keeping our country going amidst this strange time. They are taking care of us, keeping us safe, helping things continue as normally as possible. It is vital that we recognize them for their selfless actions and thank them for the sacrifices they have made for our benefit. 
"I appreciate all the essential workers because they are risking their lives, like doctors and nurses," sophomore Annabelle Borm said. "There's already been some evidence showing that grocery store employees in particular are in danger, yet they continue to go to work even though they aren't earning as much as other people [that are] still working. It's a very dangerous position to be in right now, and many people, such as restaurant employees and delivery people, are still working for minimum wage. [I want to] thank [them] for what [they're] doing right now and [tell them that] everyone in Westlake and all across the affected areas are eternally grateful for [their] continued work to help people and keep everyone safe."
Leave a Comment