Defensive lineman senior Carter Sepulveda screamed off the edge to force a 12-yard loss and 4th-and-22 early in the second quarter. The sack brought Del Valle's total yardage back into the negatives and continued a massive day for the Chaps' defense. 
 "I feel like my defensive tackles were getting after it, and opening up those gaps," Sepulveda said. "I could go through and mess up that quarterback."
The Chaps defense dominated throughout the entire game to remain undefeated. Even in the fourth quarter with Del Valle quarterback junior Nasir Ardoin finally hoping to put a drive together, Jordan Sullivan intercepted a pass to ensure Westlake's third shutout in four games on Friday night at Chaparral Stadium. Westlake (5-0, 3-0 26-6A) produced a defensive masterclass to knock down district foe Del Valle (1-5, 1-3 26-6A), 58-0. 
It was a group effort for the Chaps' defense, as they only allowed two first downs and held Del Valle to -10 yards of offense through their first seven drives. Though they only forced one turnover, the Chaps continually forced Del Valle to punt out of their own end zone. That allowed the offense to start with a short field nearly every drive. Constant pressure on Ardoin sped up the game and resulted in multiple three-and-outs for Del Valle. 
"That's really our D line," Sullivan said. "We have a fantastic D line. They put a lot of work in, and they know exactly what that offensive line is going to do. So that's really just our d-line putting in that hard work."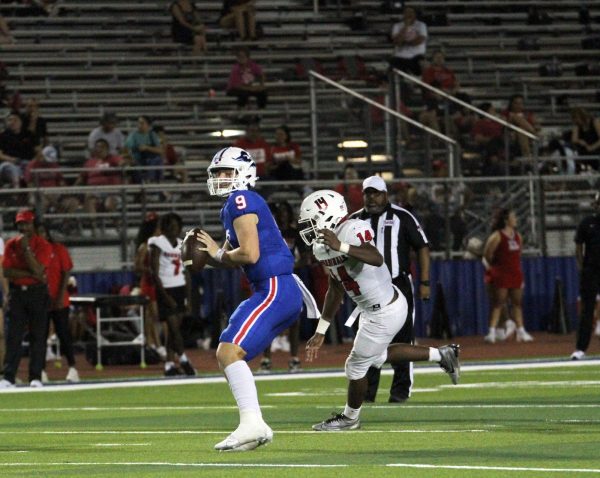 Quarterback sophomore Rees Wise persevered through a rocky first few drives in his first career varsity start, throwing an interception on Westlake's second possession of the game. However, he redeemed himself scoring a 23-yard rushing touchdown to increase the Chaps lead to 14.
"[I have] been working my entire life for that moment, so I knew I was ready," Wise said. "God put me in the position that he knew was best for me, even when it was good or bad. There will be many more to come, and I'm just excited to get started."
Despite the slightly shaky start, Wise put in a solid performance that led the chaps to another well rounded victory. Wise finished the game 8-of-13 for 109 yards and added four carries for 39 yards on the ground.
Westlake's rushing attack shined, and contributed six touchdowns from five players. Running back senior Nathan Acosta got the Chaps on the board early, starting the game with a six-yard touchdown rush out of the wildcat formation. He finished the game with nine carries for 46 yards and one touchdown, and running back senior Jack Kayser added 19 yards and two touchdowns. 
Next week, Westlake will travel to historic Yellow Jacket stadium to face Anderson. Westlake is 14-1 over the Trojans, with a dominant win last season, 66-17. The game is heavily favored towards a Chaps win, but with Acosta lining up against Anderson, the team that prematurely ended his junior campaign, all eyes will be on him.