Last week, AP Environmental Science classes embarked on their yearly field trip to one of Austin's most iconic outdoor areas, Barton Springs. The trip, known as "Barton Springs University" allows students to both connect with and learn about the environment while having fun doing so. 
"I think it's just a good mix of content that we're tying into class, and relating it to things that are specifically in our community," AP Environmental Science teacher Jean Davis said. "Also, just having some time together outdoors is almost as valuable as the educational part."
The day began with students and teachers listening in on a keynote speaker, environmental activist Diane Wilson. Wilson worked toward saving the southern coast of Texas from oil pollution in the 1980s, and encouraged students to take note of environmental problems around them and work toward changing them.
"The opening keynote speaker was very memorable," Davis said. "She had done protests against the chemical companies and oil companies down off Houston's shore back in the 70s and 80s, and even did a hunger strike. She was really big on speaking up, speaking out, and being rebellious. She really embraced that."
After the speaker kicked off the morning, students were free to explore the area and stop by different stations that displayed some features of the nearby environment. Students enjoyed a variety of activities and speakers, from seeing live salamanders, learning about the nearby watershed and even calming themselves with the noise of a traditional Australian didgeridoo. 
"My favorite was definitely the guy with the didgeridoo," senior Caleb Dunn said. "He was talking about the importance of the waves and nature and how they can help humans understand and predict things."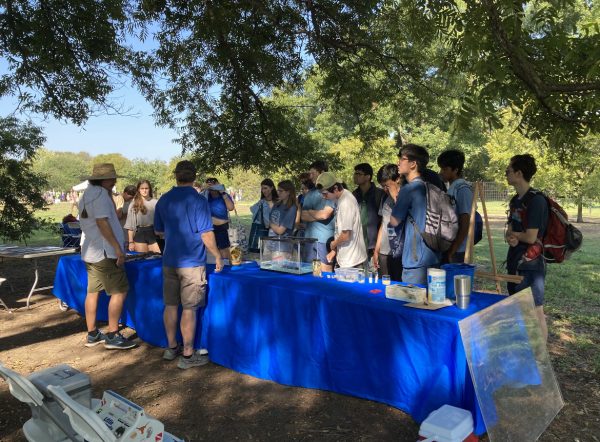 Another favorite of the students was drawing images of the nature surrounding them. 
"They had an art station where you could go and do nature art," Davis said. "The kids really liked it because it was about breathing into your art and taking advantage of your surroundings. They had a good time and they all came back with very different pictures that they drew at the same time."
Along with fun activities involving nature itself, students learned about the history of the area and the factor that it plays in the nearby environment and city of Austin as a whole. 
"There were people talking about water and where our water comes from," Davis said. "People got some history on the water and the importance of what's in your water. There was another group that really loved the Zilker history talk, and they learned all kinds of things about how Barton Springs has changed and grown over the years."
Students learned about how they too can impact Barton Springs and the environment of Austin, as many speakers and activities spread awareness about the footprint humans leave behind. 
"My favorite part of the trip was learning more about the fragile ecosystem of Barton Springs," senior Hudson Weinfeld said. "It gives you a new perspective on how we impact our surroundings." 
While learning about the history of the area and participating in activities were fun, one of the most valuable things that students participated in was simply an enjoyable time outdoors. 
"It was just fun to be outside with my friends and have the freedom to go do whatever you wanted," Caleb said. "You could swim or just walk around and enjoy the area"
There is certainly a reason why a field trip to Barton Springs has been a staple of Westlake's environmental science curriculum for over a decade: the valuable knowledge gained and bonding time between students and faculty alike makes it a hit each year. 
"I would definitely recommend it," Caleb said. "It was a great time."