With just four minutes to play, wide receiver junior Brody Wilhelm hauled in quarterback sophomore Rees Wise's dart just inside the left hash marks. The 24-yard gain on third-and-10 with Westlake leading 20-14 sealed the Chaps' first victory at Lake Travis since 2006.
"[The third down conversion] felt great," Wise said. "I just threw that ball and [Wilhelm] caught it. It was awesome."
While it was a pass that finalized the win, the Chaps' physicality throughout the game paved the way. From the first snap against its rivals, Westlake grinded out yardage in the rushing game and were relentless on defense. 
"We felt that we were gonna be physically dominating them the entire game," defensive back senior Wyatt Williams said. "That's exactly what we did, right off the bat." 
The Chaps (4-0, 2-0 District 26-6A) showed both their physical and mental toughness on Friday night, taking down rival Lake Travis (4-1, 2-1 26-6A), 20-14, in front of a sold-out crowd at Cavalier Stadium. Westlake completed just eight passes all game, but rushed for over 200 yards on 35 attempts. The Chaps defense similarly asserted itself physically. The unit combined for two sacks, four tackles for loss and a forced fumble.
"[The rivalry] is a blast," quarterback senior Paxton Land said. "This was my first time playing against LT. It was just fun to get out there and play against those guys. They have a great football team, but we just have a better one."
After receiving the ball to begin the game, the Westlake offense established their presence early on the ground. The Chaps' offensive line guided them toward several important runs, and Westlake finished their opening drive with an 18-yard touchdown run by Land. 
"One of our team goals is to score on the first possession," Land said. "It set the tone for us. We were gonna go out there, be physically dominant and run the ball down their throats."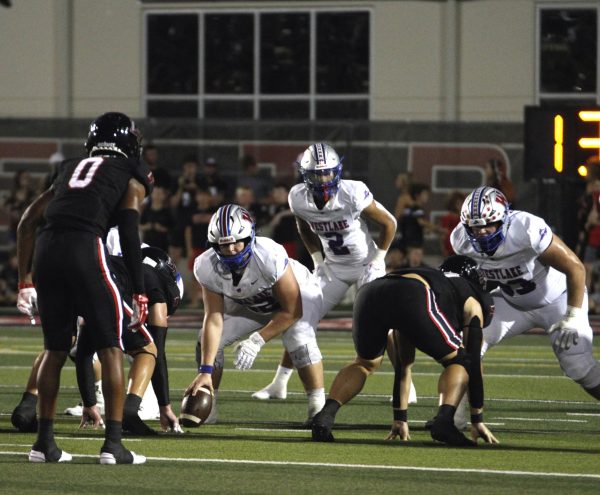 The Chaps' mindset was no different on the other side of the ball. The Westlake defense put pressure on Lake Travis early, making several key stops and physical plays. The unit forced a punt and then a turnover on downs on LT's first two possessions. 
"We came in all week, we practiced their plays and we knew what was coming," Williams said. "We just had to go out there and execute."
Lake Travis found its footing in the second quarter. Quarterback senior Kadyn Leon connected with wide receiver senior Cole Munnerlyn for a 52-yard gain, which set up a one-yard score by running back senior Nico Hamilton.
Both offenses struggled to find consistency before halftime, but the Chaps put points on the board. An efficient drive led by Wise set up a 29-yard field goal by kicker senior Spencer Barnett. Westlake led 10-7 going into the locker room. 
Westlake came into the second half looking to break the game open, and in the third quarter, it appeared to do so. Running back senior Jack Kayser continued the Chaps' hard-nosed rushing attack. He gashed the Cavaliers' defense for a 40-yard touchdown run. Another defensive stop led to a 53-yard field goal by Barnett, giving Westlake a 20-7 lead at the end of the third quarter.
Lake Travis didn't go down without a fight. Leon found tight end junior Josiah Thomas in the end zone for an 11-yard touchdown, cutting the Chaps' lead to six. The Cavs got a quick stop on defense and needed one score to complete the comeback and take the lead. 
But at the Chaps' most vulnerable moment, their defense stood strong again. An entourage of Westlake jerseys stuffed Leon on a crucial third down, forcing a punt. A time-consuming drive highlighted by Wise's 24-yard third-down conversion to Wilhelm iced the game.
As the Chaps continue to roll toward the playoffs, they look ahead to a homecoming meeting with Del Valle at Chaparral Stadium next Friday night at 7:30. 
"We're only getting better," Williams said. "By the time we reach our best football, it'll be playoffs, and that's when we go for the state championship. We're heating up at just the right time."