NBA MVP Rankings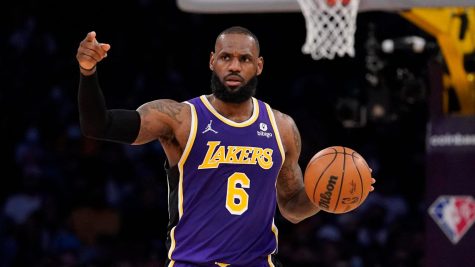 Honorable Mentions: DeMar DeRozan, Ja Morant, Luka Doncic
Trae Young
Trae Young breaking into my top five might be a shock to many. The simplest way to summarize the Atlanta Hawks' 2022 campaign is calling it disappointing, especially after their surprise playoff push last season where they advanced to the Eastern Conference Finals. Still, Young is hardly at blame for his team's shakiness and shouldn't be overlooked based on team performances. 
To say Atlanta's offense revolves around Young would be an understatement. They rank second among all teams in offensive rating currently and almost all of their playmaking is a byproduct of Trae, whether it be creating for teammates or scoring himself. He's the league's 5th leading scorer with an efficient 28.4 points per game while also dishing out the third most assists at 9.7 a game. In my opinion, he has been the second most impactful offensive player this year despite his difficulties on the defensive end holding him back quite a bit. Still, I think his performances warrant a top five ranking this season. 
LeBron James
It would've been borderline impossible to find a fan that genuinely thought the Los Angeles Lakers could miss not just the playoffs but the play-in tournament entirely at the beginning of this season, yet that's exactly what happened. Much like Trae Young, LeBron James' MVP campaign will be overshadowed by what could be the most disappointing team ever assembled. Regardless of the Lakers' failures, he has been a scarce bright spot from their roster. 
He's having his highest scoring season of his 19-year career at 30.3 PPG, the second highest in the league and also his highest efficiency since 2018. James' distribution might be down based on his standards but very valuable nonetheless. The fact he's able to perform at such a high level as a 37-year-old becomes confusing if you think about it for too long, especially considering the situation he's dealing with. Based on how important winning is to voters, LeBron won't be recognized much on award night even if he has been playing as well as almost anyone. 
Joel Embiid
The last three players on my list have a clear distinction over the rest of the competition. With how competitive the MVP race is this year, Joel Embiid would most likely take home the award in an average season. He was already in strong consideration for last season's trophy before injuries plagued his chances, and he came back this year better than ever. Through all the drama surrounding the Philadelphia 76ers with Ben Simmons, Embiid has stayed incredibly consistent and, most importantly, has had his healthiest season yet. 
Simmons' absence before his trade led to Joel taking on more offensive responsibilities. He's shown growth as a passer that has made him that much more difficult to game-plan against. It's a near necessity to send double teams repeatedly against an athlete with his skillset in the post and capability to finish tough shots inside, but with his improved court vision and willingness to pass, doing so just leads to better looks for his teammates. Speaking of his post scoring, Joel secured the scoring title at 30.6 PPG and a bulk of his success is due to his physicality. He's recently garnered a poor image based on how often he gets to the foul line each game, with some fans believing it to be a less honorable method of scoring. In my opinion, the idea that he's been successful mostly due to his tendency to exaggerate contact has been blown out of proportion. It takes an incredible amount of discipline to defend Embiid without fouling predominantly based on his footwork and post moves. 
What sets him apart from the previous two players is his two-way ability. As has been the case since first entering the league, Joel has been a top-tier defender this season and is the biggest reason for the 76ers top ten defense. The only other player to match his prowess on both ends of the court simultaneously would be my runner up. 
Giannis Antetokounmpo
The reigning Finals MVP went into this season with two MVP's to his name and is having his best regular season to date as I see it. Perhaps Giannis would have a better chance of winning if this was his first time being at this level, but we've grown comfortable expecting greatness from him. He has been in serious conversation for each of the last five trophies and could very possibly take home this year's aswell. 
From a talent and performance standpoint, an argument in favor of Antetokounmpo has no blemishes. He finished third in the scoring race at 29.9 PPG alongside great efficiency, perhaps the best scoring he's displayed yet in his career. He also continues to shine on the opposite side of the court, being a top rim protector and post defender similar to his efforts that won him Defensive Player of the Year just two seasons ago. Pair that alongside his exceptional playmaking, especially at his position, with 5.8 assists a game, you get a better understanding of how well-rounded and dominant Giannis has been.
Unfortunately for him, his case falls short mainly due to narratives. Like I said earlier, Antetokounmpo's consistency throughout his career ironically hurts his chances purely based on expectations. If any other player performed at the same level as him, it would be far more shocking and new. He's coming off a highpoint of his career with winning a championship and before this season even started it was set up to pale in comparison. If the award wasn't so heavily influenced on storylines, Giannis could easily secure his third. Either way, I would still have another guy over him. 
Nikola Jokic
When Nikola Jokic won last season's award, he very likely became the least probable MVP of all time based on a player's potential as a draft prospect. The Denver Nuggets selected him as the 41st pick in 2014, coincidentally at the same time as a McDonald's ad aired during draft coverage. He is by far the lowest pick to win the award, beating out Steve Nash and Giannis Antetokounmpo who were both 15th overall. Willis Reed is the only other player to win MVP as a second-round pick and was selected during a time when there were just nine picks per round opposed to the thirty we have today. 
Not only is Jokic the clear best offensive player in today's league, he's also coming off a top ten offensive peak across any player ever in my opinion. Wilt Chamberlain, LeBron James and Larry Bird are the only players to be as good of scorers and playmakers simultaneously as Jokic has been during this two-season stretch. His efficiency also surpasses almost any high volume scorer, far higher than anyone else on this list and rivaling Stephen Curry's best years in that regard alongside 27.1 PPG. His unstoppable scoring is largely thanks to his distribution as well, making it harder for defenses to focus on Jokic in the post when he can make any pass to any teammate at any time. He is already the best playmaking big to ever play with how often he's able to conjure his mind-numbing passes.
His case's strongpoint comes with the Nuggets' success compared to their roster on paper. Jamal Murray has been Jokic's sidekick for a few years and was sidelined with a torn ACL since the end of last season, keeping him out for this year's entirety. Michael Porter Jr. also suffered a season-ending injury after aggravating a previous back injury. Despite both of his top complementary pieces hardly playing this year, Jokic has led Denver to 48 wins, just three short of Embiid and Giannis' team records with a far lesser surrounding core around him. While many Nuggets' role players also deserve praise for stepping up, it's mostly a measurement of just how impactful Nikola has been.
Leave a Comment