Elementary night connects younger players with Lady Chaps girls varsity basketball
The main gymnasium erupted in cheers for the girls varsity basketball 82-19 win against Del Valle High School, but the energy and impact of the Jan. 28 game was unique to any other game this season: It was elementary night. 
The Westlake Youth Basketball Association and team parents organize one night a season where elementary school girls, specifically WYBA players, get free admittance into the game. Additionally, they are granted freedoms and privileges that other crowd members aren't afforded. 
"The WYBA players get to shoot on the court at half-time, and we all stay after the game for a little while to sign their shirts and things," forward senior Natalie Kley said. "The elementary school girls usually have a lot of fun and are also a loud cheering section, which is great for us."
This night connects the future generation of girls basketball players with the current ones, giving the chance for high school players to step in as role models and inspire the young players. This bond between all teams in the Eanes' girls basketball community is a relatively new development, but the interaction has proven to be beneficial for all involved.
"We began having elementary night my first season here, which was nine years ago," head girls basketball coach Katie Hensle said. "Some of our current players even came as elementary students. The [WYBA players] get a chance to see what Westlake basketball is all about and the team benefits because it brings a lot of energy to the gym. This was probably our biggest elementary night since we started it. It was awesome to see so much of the community here."
As of right now, there is no other sport in the district that has a designated night where the elementary athletes get to have hands-on experience during and after a high school game. According to Hensle, those who work to make it happen deserve the district's recognition and appreciation.
"I am really thankful for the WYBA and the support they bring to our program," Hensle said. "They help build interest in basketball at a young age for players in our community and so many of our current players, and even my own children, have benefitted from the WYBA."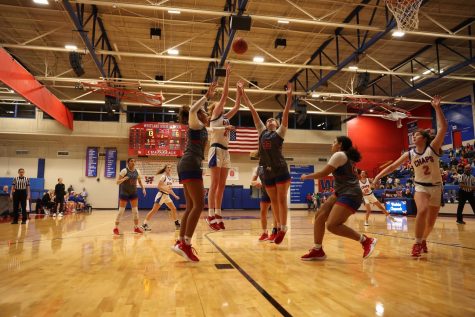 Leave a Comment