Diversity, Equity, Inclusion Community Webinar provides progress update on district's work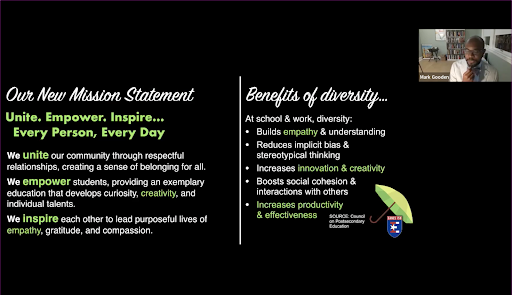 At 5 p.m. Dec. 2, superintendent Dr. Tom Leonard held a Community Webinar featuring Diversity, Equity and Inclusion Consultant Dr. Mark Gooden and DEI Advisory Committee Members for the purpose of providing an update on the district's DEI work, discussing future plans and answering questions. The presentation encompassed the district goals surrounding DEI, the incorporation of student and staff voices and the importance of continuing this work.
Leonard started by defining "educational equity" as ensuring each child receives what they need to realize their full academic potential. Moreover, he expressed the importance of DEI work in preparing students for a diverse world.
"When I think about DEI, I want to think about it this way," Leonard said. "Look, our students are going to live in a diverse world. In fact, our students likely will be leaders in the state of Texas, in the United States and in the world. Understanding other cultures, understanding differences will make them better prepared for that world. To me, that's at the heart of our kids. Our kids have told us that when they leave Westlake and go into a broader world, they see other cultures and they need to be prepared for that."
In June, the Eanes ISD trustees adopted a new mission statement, titled "Unite. Empower. Inspire…Every Person, Every Day" that reads: "We unite our community through respectful relationships, creating a sense of belonging for all. We empower students, providing an exemplary education that develops curiosity, creativity, and individual talents. We inspire each other to lead purposeful lives of empathy, gratitude, and compassion." Additionally, the Board listed DEI as one of its 2020-21 priorities.
"In our mission statement, you see this sense of belonging," Leonard said. "That was also in our original DEI statement that we put out there a long time ago, that we want to have that sense of belonging, initially focusing on race, but also on other things. It's important that we recognize that while there's a lot of talk about race connected to this, it's broader than race."
Gooden then discussed the district's declared goals surrounding DEI, which the Board established at the EISD Strategic Summit in January. The goals include assessing and modifying the climate to ensure inclusivity for all staff and students and aligning the goals and their integration with Board policies. A full list of the Board's goals can be found on the Eanes DEI website.
"Those two concepts, build capacity and support sustainability, really talk about what we want to do today in support of this work tomorrow," Gooden said. "We haven't been able to realize all of these goals at this point. But as we start to build capacity and sustainability over time, we will implement different aspects of these goals." 
Last year, in pursuit of these goals, Gooden conducted student focus groups, interviewing students in the fall and spring for the purpose of collecting quantitative data about their experiences. He uncovered that people of color don't always experience a sense of belonging, the prevalence of the phrase "it's just a joke" and the perception that staff are tolerant of racist remarks.
"These are things that are pejorative, that really speak to what's happening in this space," Gooden said. "Now, early indicators in the fall showed that there was some improvement and then in the spring, we also found that the students were recognizing some changes. For example, some students in high school commented that they were noticing that teachers were more aware in how they approached some of these remarks and that they were more accurately responding to racist remarks or anything that was considered biased language." 
Gooden presented this information to the Board in May, and more information can be found in the Final Report for the 2020-21 School Year, which recognizes instances of racism and the perceived need for students to be ready for a diverse world.
"We're not trying to alienate folks when we do DEI work," Gooden said. "We're not trying to be divisive. In fact, we're doing what Dr. Leonard said earlier, we're trying to build a community where everybody has a place and everybody feels as if they belong."
Gooden mentioned a book he co-authored, called "Five Practices for Equity-Focused Leadership," which describes techniques to guide school leaders in engaging their communities in change. Gooden said this book serves as the basis for much of his DEI work.
This fall, the district has taken steps to continue this work, including professional development led by district leaders Aug. 10-11 titled "A Classroom for Everyone" and one led by Gooden Sept. 30 for elementary staff members and Oct. 28 for secondary staff members titled "Building a Community of Trust and a Sense of Belonging for All."
"One of the things we heard from our teachers [in August] is that they want to 
get access to more content that helps them engage in the work," Gooden said. "From that, we heard how they would appreciate going through some scenarios and answering those in a space where they can learn together. That helped us design the professional learning for Sept. 30 and Oct. 28. I led those professional development days by building on some work where teachers can get the benefit of working with each other. This provided an opportunity for staff to brainstorm some actual scenarios that they could read and then reflect and answer some questions. We wanted to honor the wisdom that was in the room in those spaces. That is a part of building capacity; we want to make sure we have folks who have enough expertise to continue moving forward."
In addition, the district has worked to facilitate the creation of Equity Teams and the DEI Advisory Committee. Equity Teams consist of people supporting this work by supporting the principal, and the Advisory Committee advises the Board of Trustees on the issue.
"In terms of campus Equity Teams, principals and their committees are leading the work at the campus level by providing support for students and staff, monitoring the campus climate and making adjustments as needed," Gooden said. "What the Advisory Committee has done is organize these topics into really powerful groupings."
After concluding their presentation, Leonard and Gooden answered questions from listeners. In response to a question asking how to distinguish Eanes' DEI efforts from Critical Race Theory, Gooden clarified the meaning of "anti-racist."
"I don't think that anti-racist concepts are exclusive to critical race theory," Gooden said. "We'll bring up this idea of anti-racist but I want to be clear, anti-racist is not a negative thing. If you have a space where there's been an accusation of racism or where people are said to be using racist language, anti-racist means you push against that and you want to dismantle structures that promote racist behavior and concepts." 
Throughout the webinar, Leonard and Gooden emphasized a key concept of the district's DEI work: creating a sense of belonging for all students.
"I think in life we all just want to be respected, and we want to respect others," Leonard said. "I know sometimes we don't agree on a lot of things, but I hope we can agree on this: that we want to treat others the way we would like to be treated. And I really do believe that's at the heart of creating a sense of belonging for our students, for our staff and for members of our community."
View the full recording of the webinar here.
Leave a Comment