13 years of Kanye West's 808s and Heartbreak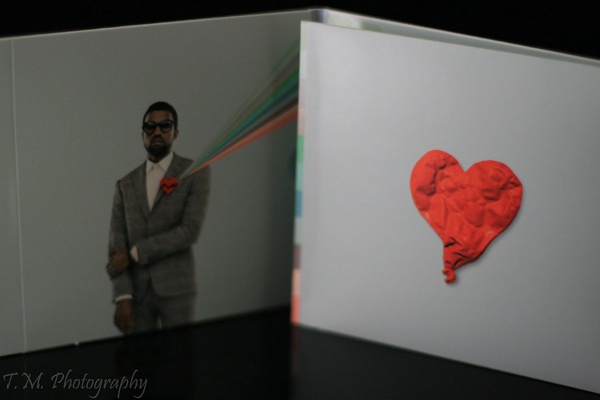 After his vastly popular trilogy of albums, Kanye West released his fourth studio record, 808s and Heartbreak on November 24, 2008. The initial reaction was full of shock with the noticeably new style West adapted on this project, which scared many followers into believing that he was drifting away from hip hop and finding himself in the electronic pop genre. However, this opinion was quickly dismissed as West's career went on and 808s and Heartbreak ended up aging extremely well according to many. It is also considered one of the most influential records to new-age Hip Hop and some contribute it with creating the immensely popular emo rap genre. With the 13th year anniversary of the album's release passing, why don't we look back at whether it aged well and dissect what made it a polarizing record at the time. 
Before production of the project, West was in a dark place in his life. His mother, Donda West, passed away in 2007, which was roughly six months before Alexis Phifer, Kanye's fiancée at the time, ended their relationship. West no longer felt like creating the music that felt synonymous with him, which led to him scrapping development of his ongoing project. West also quickly became infatuated with the Roland TR-808, a drum machine from the early 1980s that was easy to use and created artificial and bizarre synthesizer sounds. The machine was used in every track off the album and was a considerable reason for the record's unique sound. 
The project is also famous for its seamless incorporation of Kanye's sorrow from his life, partly due to the addition of soon-to-be breakout rapper Kid Cudi as a co-writer for four songs and a few features. Cudi was an unproven artist at the time, but brought the perfect melancholy style to the table for the record. This was a new sound for Hip Hop at the time and is now looked back on as groundbreaking considering how it shaped an extensive part of rap music today. 
The opening track of the album, Say You Will, is very simplistic, only having two lines for each of the song's three verses, all of which are followed by the same repetitive hook. Despite this, West portrays a relationship in which a spouse agrees to get married, only to split before they could wed. This sounds oddly familiar to West's own situation with Phifer, but I'm not one to connect dots. The production on this track follows the same simplistic style as the verses, with the beat being primarily made up of drums and the beeping of a heart rate monitor. 
Welcome to Heartbreak follows as the record's second track, where Cudi's first feature appears with a very melodic and hypnotic hook. The song entails West's envy of his friends and family, who have already settled down with a family of their own. It opens up with a contrasting keyboard and string instrument combo, leading into West's initial obvious use of autotune. At the time, autotune was becoming increasingly popular, yet it was a very new concept to intentionally douse vocals with heavy use of hard tuning, which is more prevalent with today's rap music. 
These techniques are prevalent in just about every song on the record, some more than others, with the following track being possibly the most obvious. Heartless, which was released as a single before the album's release, served as Kanye's highest charting song since the tremendously popular Gold Digger, peaking at number two on the Billboard Hot 100. It continued with many of the techniques that were already established on the record, with quick strokes of string instruments being used as the basis of the beat, contrasting well with West's vocals, which, as stated earlier, are dominated by hard tuning.
Skipping ahead a few tracks, Paranoid and RoboCop almost act as a quick intermission, including a very vibrant upbeat sound compared to the previous tracks. Paranoid doubles down on the electronic sound that was featured in previous songs, using many keyboard melodies underneath the track. West shares the chorus with Kid Cudi and Mr Hudson, who brings standout vocals that fit very well with the feel of the song. RoboCop follows up with a similar mood, this time created by West's vocals, which are altered to sound almost staticky, contradicting the strings in the background perfectly. The song is very playful, telling a story of West in a relationship with a girl that is overly vigilant of Kanye's actions, which in return kept West interested in her.
The final track I will be going in-depth on in this record is Coldest Winter, sampling Tears for Fears' Memories Fade. This song almost completely reflects Say You Will, in the sense that West is once again talking to his ex-fiancée. On the surface, it seems that West is finally getting over her and saying goodbye to an old lover, yet the misery he had in the previous track is turned into frustration and anger, noticeable in his heart-wrenching vocals. The same simplicity and repetitiveness is present in the verses and hook, and it serves as a great record-capping song.
Whether or not this album aged well is especially up to preferences. The obvious autotune could be obnoxious to some, even though it was used in relation to beautiful melodies. However, I would say it aged perfectly in the sense that it shaped the future for many of today's rappers. This record almost single handedly created the emo rap genre that's prevalent with artists like Lil Uzi Vert, Lil Peep and Juice WRLD and many more were known for in the past few years. Not to mention how 808s' autotune almost created a genre on its own, and heavily influenced the sound of current rappers like Travis Scott (who was a prodigy of West's), The Migos, Future, Young Thug, or even Lil Yachty. Some could argue that this was the most influential rap album of all time, and it isn't too shocking to say so. 
Leave a Comment