Business INCubator team creates gift card app, wins National Pitch Competition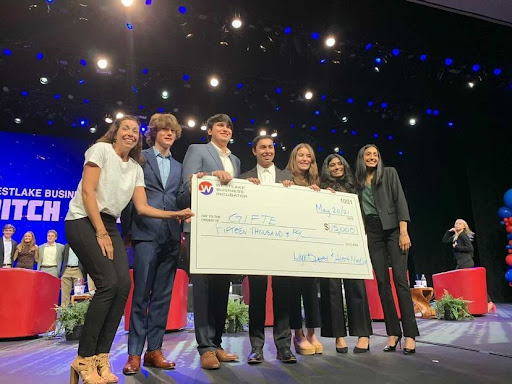 The atmosphere is tense as seniors Emily Weiner, Jash Desai, Radhika Gautam, Nina Velacheri, Leo Weihe and Amir Alaghehband anxiously await the judge's words, their eyes locked on the screen. As the judge begins to announce the next company to receive funding, the group turns excitedly to each other, their faces lighting up in anticipation. When the team hears their company's name, they immediately jump to their feet, cheering and high-fiving each other. GiftE has now accumulated $35,000 for their business.
During the annual Pitch Night at Westlake High School May 20, every team from Business INCubator pitched their business on stage and answered the judges' questions. However, during the National Pitch competition, the team submitted their pitch and a self-produced commercial a week beforehand. The judges then had that amount of time to come up with questions. After winning, not only did the team receive an additional $10,000 to develop their app but also an important confirmation.
"[It's an affirmation that] this is something that can turn into a reality, and that we can make money off of," Jash said. "So just getting that ability to win not only Pitch Night but National Pitch was just confirming our belief that GiftE was going to be a really great business."
Their business, GiftE, is a free, interactive app that allows users to send, trade, store and donate gift cards they have received. Of course, all of this was only possible after months of hard work from the creators. 
"[In the beginning], each of us came up with one or two ideas that we wanted to work on," Jash said. "I [drew inspiration from] talking with my parents, who often have around 60 to 70 gift cards just lying in their drawer cabinet. I came up with the idea to store and send your gift cards [through an app]."
After Jash presented his idea to the group, they decided to pursue it as they had all experienced this common problem. Each member contributed ideas, and when they had a solid plan, they sent out a Google Form to evaluate people's interest. The positive feedback they received encouraged them to continue onto the next steps.
"I created a wireframe of what we wanted our final app to look like," Jash said. "And then from there, Nina was able to [recruit her brother], a UT computer science student, who created a beta app for us."
Nina's brother helped the team create the basic storage feature for their app, and after receiving the award money from Pitch Night, the team hired an Indian tech company called Dynamic Dreams.
"[Dynamic Dreams] just took my brother's original design, polished it up and added a bunch of new features to make it more fast and smooth to work with," Nina said. 
Reaching that point was not without its difficulties, especially since they worked during the pandemic. With Jash as the only in-person student for most of the year, the team struggled to connect.
"The communication just wasn't there because most of the time, it was through text," Jash said. "We couldn't really talk and express what we were feeling. It was amazing that we had Zoom and were able to collaborate there, but just the communication was the hardest part."
Most members didn't have experience with pitching business ideas and gathering information, which also posed a challenge. 
"The managers and owners' time was precious, and so sometimes they weren't very patient to a couple of high schoolers," Nina said. "We had to learn how to deal with that and desensitize from some of their attitudes by just continuing to push forward to get that final result we were wanting."
To overcome these obstacles, the team met as often as they could through Zoom.
"We were able to be a cohesive unit, even though we were all kind of separated," Jash said.
With the app in its final design stages, the team was able to prioritize marketing plans.
"We're planning to implement the app in schools first," Radhika said. "Right now we're working with Eanes schools. We're going to first be talking to teachers, explaining how the app works, how they can create an account and buy gift cards for wishlists, and then we want to set up a booth or make a video at back-to-school events. We just want to explain to the parents that they can donate to their teachers using GiftE and how it is more efficient than giving the donations to their kids or mailing them."
Through their marketing campaign, the team aims to convey GiftE's uniqueness. There already exist gift card apps, such as Gyft and Stocard, that offer similar features. 
"What was new about our app was that we implemented these things all together, as well as added a trading feature and a donating feature," Jash said. "And so that was just for the app itself, but I think the main innovation that we were able to develop was our NiftE Notices and SwiftE Analytics because I feel like no one in the market we're in has even explored this."
In addition, they take money from the business side rather than the user side. NiftE Notices and SwiftE Analytics are services offered to businesses who partner with GiftE. NiftE Notices are notifications that appear on a user's phone when they pass by a store they hold a gift card to, and SwiftE Analytics collect data and information about businesses' gift card users.
"Gift cards for businesses are a really big marketing tactic, especially when you give a gift card to a person to a store that they otherwise wouldn't shop at," Nina said. "That's a great way for businesses to get new customers. Once we explained the NiftE Notices as well as the SwiftE Analytics, businesses also confirmed that that would be something they would be incredibly interested in."
In addition to helping businesses, GiftE will benefit charities. Those that register on the app can create a wishlist of specific gift cards they're looking for, and people can donate directly to them. Additionally, GiftE is working with school districts like Eanes, Austin and Lake Travis ISD to help teachers purchase school supplies they would usually have to purchase themselves.
"It's basically a short term kind of way to donate quickly," Emily said.
The team even sees environmental benefits to GiftE. By having users purchase online gift cards through the app, they hope to reduce gift card-related plastic usage.
"A few hundred thousand tons of gift cards are just stuck in our landfills, in our rivers and our lakes and oceans," Jash said. "This is going to take a long process, but we're dedicated to having a good impact on the community."
Looking to the future of GiftE, the team plans to continue developing the app during the Business ACCElerator course and after they graduate.
"We all are so excited because we have such big plans for this year," Nina said. "Next year at Pitch Night, when people just hear the word GiftE, we want them to know immediately what it is. That's our goal as of now and hopefully in college if all of us want to pursue it. I think we all are on the same page regarding that."
This year, they plan to work on updates allowing people to purchase online gift cards through the app and create an online marketplace for trading, as well as marketing the app. They will use their initial $35,000 in funding to develop the app and website, as well as for marketing and legal. 
The team plans to make the app available to download on the App Store and Google Play around Aug. 16, where they aspire to extend its reach further. 
"International schools and schools that are all across the U.S. would be our main goal because it's such an amazing market to be able to reach out to teachers," Emily said. "It's a need that's everywhere, no school has the perfect environment; there's always a need to support the teachers in any way. I don't think that would be that difficult to reach beyond the U.S. with our features and with trading. I'm hopefully sure that many different people across the world would be interested in owning GiftE on the App Store." 
Although the team members' future in college is still uncertain, they are confident they can overcome the hurdles of separation.
"If we were able to work without even meeting each other for the first three quarters and still develop such an amazing app, I feel like we could do it from anywhere in the world, just working together," Jash said.
Leave a Comment