Democratic candidates gear up for second presidential debate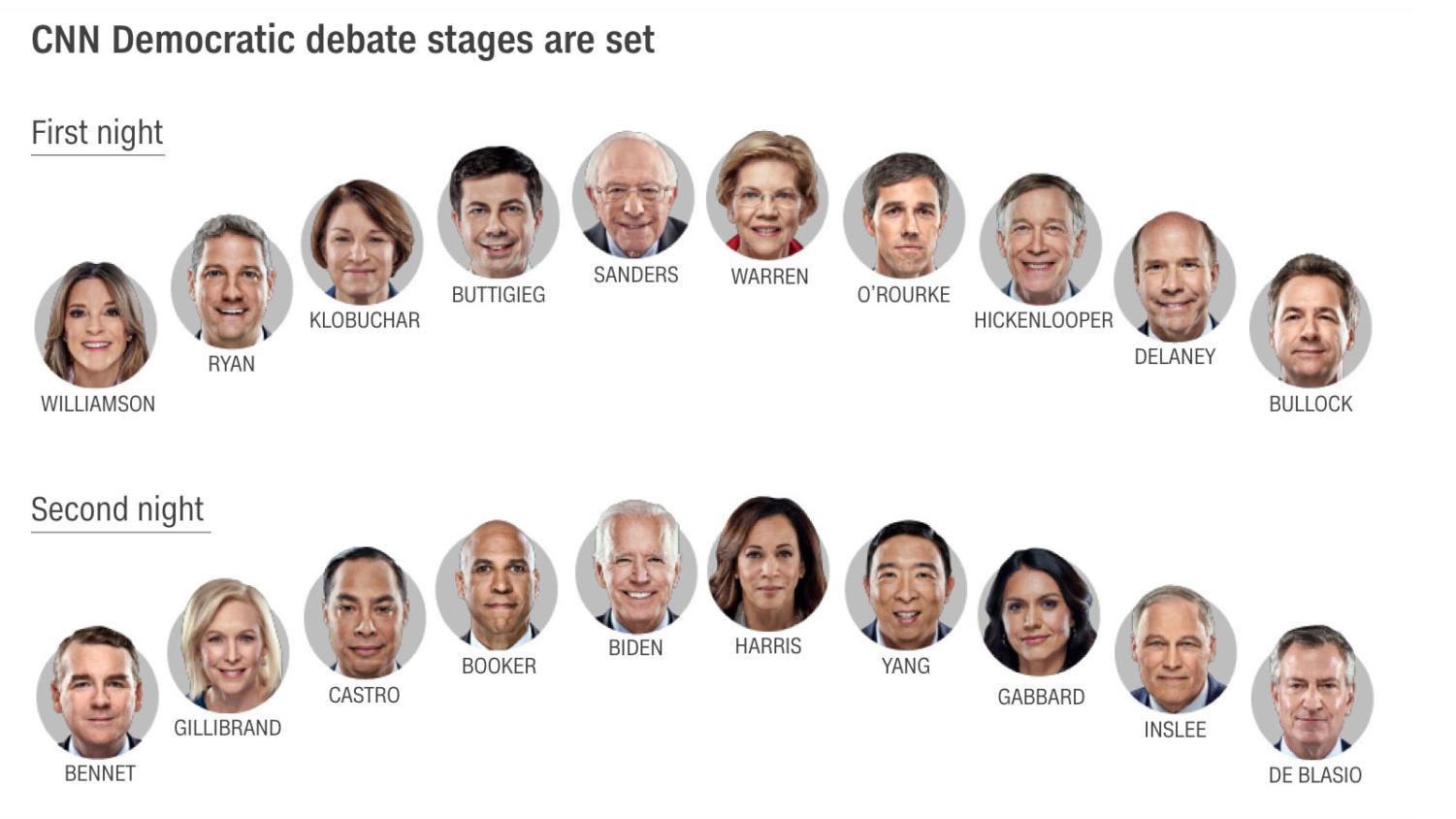 The second Democratic presidential debate will be held in Detroit next Tuesday and Wednesday at 9 p.m. Twenty out of the now 25 candidates qualified for the debates. The newest additions to the race are former U.S. Representative Joe Sestak and billionaire philanthropist Tom Steyer. Neither qualified for the second debate.
Ten candidates will be on the debate stage each night. On the first night, top polling candidates such as Pete Buttigieg, Bernie Sanders, Elizabeth Warren and Beto O'Rourke will take the stage. Candidates Cory Booker, Joe Biden, Kamala Harris and Andrew Yang will appear the second night. The full list of candidates is pictured above. 
According to recent polling numbers from realclearpolitics.com, Biden is currently leading the race by a landslide with an average of 28.6 percent in the polls. Sanders, Warren and Harris trail far behind with average polling numbers of 14.8, 14.6 and 12.6 percent, respectively. 
If you saw the first debate, you know that Biden was under intense scrutiny after Warren criticized him of not supporting bussing that would have led to her and her peers from being integrated into an all-white school. Her emotional story put Biden in an awkward position to defend his past political decisions. Despite this setback, his polling numbers seem fairly unaffected. Harris and Biden are positioned side-by-side for the second night of the debates. It will be interesting to watch how the two interact. 
Another result from the first presidential debate was an apparent alliance between candidates Cory Booker and Julián Castro. The two piggy-backed off each other's comments on the issue of immigration. Booker made a powerful statement about immigrant rights saying, "We do not leave our human rights at the border." Castro, similarly, called for a repeal of Section 1325 of the Immigration and Nationality Act which places a criminal violation instead of a civil violation on illegal immigrants.  
Oprah's spiritual advisor, Marianne Williamson, has yet again qualified for the debates. Williamson has become a sort of joke on all social media platforms and has been accused on no factual basis of being anti-vaccine and even of being a cult leader. On Tuesday morning, she took to Twitter to "penetrate the field of lies created to keep some people out of the conversation." Williamson left few people impressed after her appearance at the First Democratic Debates June 27. The author appeared submissive, apologizing several times for interrupting other candidates and barely ever managing to get a word in. In the field of big names and personalities, Williamson will have to make a bolder effort to make her voice heard. 
One candidate who failed to make the stage is Mike Gravel. The former U.S. Alaskan Senator is unique in that he is running for president without no real desire to be president. He plans to continue his campaign, endorse a like-minded candidate and then drop out. Gravel's campaign slogan is "No more wars," and despite being strongly anti-violence, he has had no problem with attacking every single Democratic Candidate on his social media platforms, which are run by two teenagers. Specifically, Gravel has a strong dislike for debate-qualifier John Delaney for no real apparent reason, tweeting at least five times a day, "#DropOutDelaney." While Gravel received enough unique donors to qualify for the second debate, he was excluded by the Democratic National Committee because of his non-existent poll numbers.
Make sure to tune in July 30 and 31 at 9 p.m. to watch the 20 candidates debate current issues, and feel free to leave your comments and predictions for the second debate down below. 
Leave a Comment