Long Shot review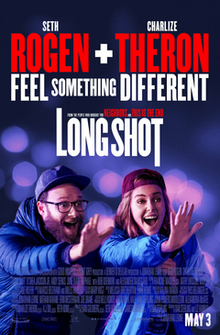 Long Shot is a romantic comedy that was released on May 3, starring Charlize Theron and Seth Rogen. It takes place in 2019, in a sort of parodied political climate. Theron is Charlotte Field, the Secretary of State under the comically incompetent actor-turned-president with aspirations of filling his seat to become the first female president. Rogen is Fred Flarsky, an easygoing journalist who was once Charlotte's babysitting charge. When they reunite by accident some twenty years later, Fred ends up becoming Charlotte's speechwriter for her presidential campaign.
It's a mismatched pairing — Theron as the beautiful, successful Secretary of State and Rogen as the slightly schlubby yet lovable speechwriter that sticks out like a sore thumb among dignified world leaders and their aides — and the movie overemphasizes this. Yet somehow Charlotte and Fred together work, thanks to the actors' surprising chemistry, and the romance between them doesn't seem entirely out of the realm of possibility.
Long Shot definitely is at the upper end of raunchy comedies. Despite being a little predictable, it has legitimately funny moments, witty writing and an engaging plot that  adds a sense of intelligence, especially considering today's messy politics. Both Theron and Rogen are extremely likeable, as are June Diane Raphael and O'Shea Jackson Jr. in supporting roles. On a deeper level, I really appreciated the way that Long Shot didn't shy away from opposing views and humanized them instead of demonizing them. It cast a light on our inability to have a respectful and direct conversation with someone whose opinions and beliefs may be different from ours, which is something today's world could certainly use a whole lot more of. All in all, I really enjoyed Long Shot. It is rated R for sexual content, language and drug use, so I would recommend it to anyone who may be interested and doesn't mind a little explicitness.
Leave a Comment