The Last Summer adds to list of Netflix originals to leave viewers with more quetions than answers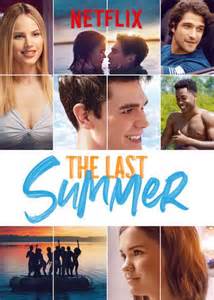 Watching The Last Summer was like watching a cake be made. In the beginning, the batter is mixed, and I felt like there was the correct amount of each ingredient in the bowl. The directors laid a nice foundation, they put oil in the pan to keep the cake from sticking. But then as I watched it bake, the cake started to look nothing like a cake… but more of a misshapen casserole. The Last Summer is a teen coming-of-age movie that, to no one's surprise, is also a Netflix Original. The plot follows several characters and their hopes and aspirations as they enter into their last summer of high school after senior year.
There can be one word used to describe how I felt after finishing the movie: dissatisfied. There are tons of big name actors featured in this movie, yet the acting was sub-par. The cast includes KJ Appa (from arguably one of the worst T.V. shows ever made, "Riverdale"), Maia Mitchell (you know, Maxine from "Wizards of Waverly Place"), Tyler Posey (America's favorite werewolf), and Gage Golightly (side chick in "Teen Wolf"), all of whom have proved themselves to be capable of being actors. I can't quite put my finger on if the problem was that it just wasn't the right role for them, or if the plot was the problem, but either way the execution of this movie was borderline offensive.
First, allow me to touch on the plot. The Last Summer follows about 7000 different storylines, and it tricks us into thinking that all of the stories of the different high school graduates were going to intertwine together, kind of like in Love Actually, or New Years Eve, or Valentines Day, you get it. The characters, according to the rule book, are supposed to come together at the end for the Christmas recital. But they don't meet up at the Christmas recital. Then, the movie ends all of a sudden. And you're just left high-and-dry yet again by a Netflix original. This plot had some potential. If the different characters had contributed to one another's story lines, maybe this cake of a movie would have come out looking like a dessert and less like an overcooked side dish.
Now, the ending. Don't worry, I am not about to drop a spoiler, but quite honestly even if I wanted to, the whole movie was so shallow that there really isn't a juicy plot twist to expose. There was no real ending to this movie. It just kind of stopped. You don't find out what the characters go on to do, so even if for some reason you were coerced into relating to a character or mustered up a fiber of empathy for one (which would be astonishing due to the acting), you would have no idea how the movie ends for them.
I know it's been mostly negative vibes up until now, but if you're looking for a movie that won't make you think, care, or even spark a neuron, it's not a bad choice. This is the kind of movie where it's easy to walk away for fifteen minutes and still know what's going on. It is available on Netflix.
Leave a Comment