Student reflects on new movie "Escape Room"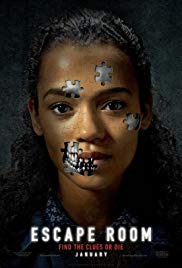 Escape Room is a gory thriller with comedic values mixed in, directed by Adam Robitel (Insidious: The Last Key, X-Men) starring Deborah Ann Woll, Taylor Russell, Logan Miller, Nik Dodani, Jay Ellis and Tyler Labine. Woll plays a character just out of a battle in the military where she was the only surviving person during an explosion. Taylor Russell plays a highly intelligent college student that is extremely introverted. Miller plays a lonely burnt out alcoholic who can't let go of his past. Dodani plays a nerdy, outgoing, escape room enthusiast. Ellis plays a self-absorbed CEO. And Labine plays a former miner and family man.
They all think nothing of the seemingly innocent escape room; having showed up for the promised prize of $10,000. When the six strangers enter the room, they are tested on their strength and logic when put in grueling, deadly scenarios. Each holding a dark past, they learn to bond and work together. They are faced with multiple rooms in which they need to spread out and search for clues to escape. Each of the rooms has a subtle detail that triggers each of the players' pasts, making it harder for some to stay sane during the process of getting out and into the next room. During the game viewers realize the change in each of the players' attitudes, learning to be communicative instead of introverted and even overcoming post-traumatic stress disorder.
Overall this movie which is rated PG-13 is highly creative and unique, but I would definitely recommend it to a younger audience, around 14 years of age to late 20s. Escape Room shows what people are willing to do and overcome in order to accomplish the same result, in other words, survive. It will keep viewers on the edge of their seats and leave the theater wanting more.
Leave a Comment