Travis Scott impresses with new album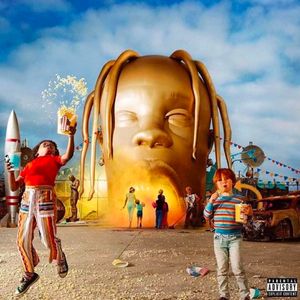 After more than two years since its announcement in 2016, the hype around the release of Travis Scott's third studio album Astroworld was almost palpable. But once the Aug. 6 release date rolled around, it begged the question: was it worth the wait?
The Houston rapper's third studio album is his most extensive piece of work thus far, and yet it feels more cohesive than any of his other projects. He flexes his skill as a producer on the album, and the stylistic growth that brought him from a Kanye protege to an A-list name really shines through. The production and general sound of the album are, overall, a step ahead of 2016's Birds in the Trap Sing McKnight or anything else he's put out. He plays around with transitions and changes in tempo, breaking up songs into several distinct movements, and his signature trippy and trap-inspired sound and hazy, autotuned vocals feel more refined and fleshed out.
He also shows his ability to take a sort of directorial role, recruiting a musically diverse array of artists ranging from Drake to Kid Cudi to Tame Impala. And it works: Frank Ocean's hook on "Carousel" is one of the song's highlights, Drake's flow on the opening of "Sicko Mode" plays into the song's mercurial beats, and Swae Lee's spacy, pitch-adjusted vocals meld perfectly on "R.I.P Screw". Some of the more seemingly minor contributions are still very deliberate and significant, too — Scott melds Stevie Wonder's harmonica, James Blake's melancholy voice and Kid Cudi's deep humming on "Stop Trying to be God," like pieces of a puzzle.
But that's also one of my criticisms of this album. There are 17 songs with 18 features and 33 producers. With so many different people contributing to and influencing the album — and despite the positive impact they have — it at times feels as if it's not a Travis Scott album. His direct impact gets diluted.
And while he's never been the most skilled rapper or writer, in some songs it doesn't seem like he's even trying. Lyrically, it falls flat — there's not much creativity, personality, meaning or humor to be found, and frankly 17 songs of lines like "Nobody can press me but the press, Nobody can check me when it's chess" get boring pretty fast.
Overall, though, I like the album. There are some bangers, like "Stargazing," "Sicko Mode," and "Yosemite," and I have a lot more good to say about it than I do bad. I give it a 7/10.
Leave a Comment