The Greatest Showman impresses audience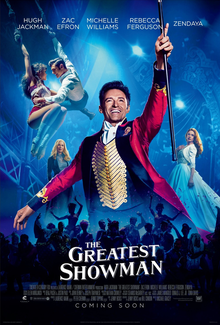 The Greatest Showman was an incredible movie-musical with something for the whole family to enjoy. A smile never left my face, and there was never a dull moment. The movie captivates its audience with its outstanding set and scenic designs, thrilling dance numbers and catchy songs that'll be stuck in your head for weeks on end. The Greatest Showman, rated PG, brings the story of Barnum & Bailey to life with their history throughout time to becoming "The Greatest Show on Earth."
Before seeing this movie, almost everyone I knew would blare the soundtrack in their cars or be singing "This is Me" like there's no tomorrow. Back then, I didn't get what the big fuss was about. I couldn't understand where this huge commotion came from and why so many people were in awe of this movie. Now having seen it, I couldn't agree more with these crazy fanatics. I've also never wanted to own a top hat so badly in my whole life. There are so many things I enjoyed about this movie, but I'll keep it to a few.
Firstly, before walking into this movie theatre, I was just the plain ol' 16-year-old Grace I had always been. Exiting the theatre, I was my wide-eyed 7-year-old self again. The show brought not only an aesthetically pleasing set, but also fed to my senses and made me feel young again. I don't know why or how I received this emotion from the film only after seeing it once, but I'm extremely glad I went and got to have that feeling again.
Now, the soundtrack. The soundtrack was written by the incredible composer duo, Benj Pasek and Justin Paul, who also gave us the beautiful and touching musical Dear Evan Hansen and the heart-wrenching 2016 film La La Land. The way this composer duo writes and works together is truly beautiful and definitely makes your time worthwhile whenever listening to anything they write. While I was in the theatre experiencing the soundtrack firsthand, from my previous knowledge of Pasek and Paul, I could definitely hear their writing style creeping in. This was nothing I complained about however, because although their style was – and always will be – very evident in the soundtrack, it wasn't like I was listening to the same song over and over again.
The final thing — but not the last thing — I enjoyed about this movie was the incredible and talented Hugh Jackman who starred as lead P.T. Barnum. Something I found out about Jackman after seeing the movie was that he's not all new to this whole singing career. In fact, turns out that he has been performing for almost 20 years and been on Broadway a few times as well. Jackman was absolutely exceptional in the film and really made the whole show. Not only was his singing on top of it, but he also was an incredible dancer.
I hope that you get the chance to see this amazing film and experience the audience-feeling as if you were at a real P.T. Barnum Show!
Leave a Comment