Project Semicolon organization, book impact junior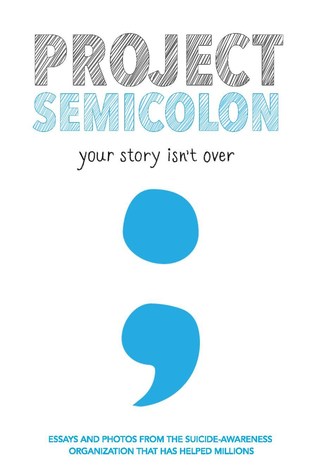 To most people, a semicolon is nothing more than a rarely-used form of punctuation. To Amy Bleuel, it became so much more.
Bleuel began Project Semicolon — a suicide-awareness organization — in 2013. Suicide is the 10th leading cause of death in the United States, and one person's death can affect many people. Bleuel knew this, and was inspired to start Project Semicolon. It started as a Twitter movement where they called for people who had been affected by suicide to draw a semicolon on their wrist, but it grew into the organization it is today.
In literature, a semicolon is used to signal the continuation of a sentence; the sentence could have ended with the first clause, but the author chose to continue the sentence. They chose this symbol because people are the authors of their own life, and they can choose to continue their sentence rather than ending it.
Without knowing Project Semicolon was an organization, I had heard about the symbolism of the semicolon and really supported it. Eventually, I had to look up the symbolism so I could quote it for someone else and discovered the Project Semicolon website. It wasn't too much later that I stumbled upon the Project Semicolon book.
The book is called Project Semicolon: Your Story Isn't Over. Bleuel passed away on March 23, 2017, and the book is meant to be a tribute to her work with the organization. It's a collection of stories from people that have attempted suicide themselves or from friends and family of people who have died. There are lots of pictures of semicolon tattoos included throughout as well.
Reading Project Semicolon: Your Story Isn't Over has been very impactful. I genuinely enjoy learning more about people's stories, especially about mental health. I find it to be a very important but rarely-talked-about topic, so for me, this book was fascinating. It may not seem that interesting to the general public, but I would definitely recommend reading it. Not only is it incredibly well-written, but it's good to understand other people's stories.
There is a warning, however, to not read it (or at least be more cautious) if you suffer from "suicidal ideation or mental illness." In the back, it also provides resources for those who need it.
According to their website, the goal of Project Semicolon is to help reduce the number of suicides in the world by connecting people to those who can help and by providing a greater access to necessary information and resources. They believe "suicide prevention is the collective responsibility of each and every person on the planet," and have helped more than 5.2 million people since 2013.
Most people don't think about mental health issues on a day-to-day basis. I encourage people to purchase and read the book (as part of the proceeds will be donated to Project Semicolon), or to donate directly. Suicide is a large but preventable issue that can be fought, and Project Semicolon is working towards fixing it.
Excerpts from Project Semicolon: Your Story Isn't Over:
"Stay Strong. Love endlessly. Change lives." Amy Bleuel
"Even though I might not always make the right decisions or have the easiest journey, my story — and all our stories — are so incredibly valid. After all, you are still a badass superhero, even if the only person you ever save is yourself." Alicia R.
"I refuse to let what happened to me define me as a wounded person; instead it defines me as a warrior who battles every single day to love her life, no matter the struggle." Lisa A.
"I am a person who survived the feeling of being drowned and burned alive at the same time, every day, for nearly five years." Jairo M.
Leave a Comment