Future's FUTURE is far from the future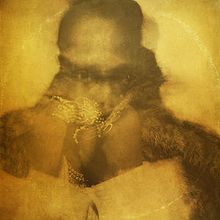 I have never understood why people like Future as an artist. Maybe it's his mumbling and auto-tuned voice, or maybe it's that one beat he uses for every song. I just don't see the appeal of his boring and generic trap music. In case you haven't heard of Future, he is a Atlanta born rapper who specializes in "trap" music, and he is really hard to understand. He is so hard to understand that I have to keep open A-Z lyric for every song of his I listen to. I first heard him when I listened to the song Low Life, and he made a really bad first impression because he was outshined by The Weeknd. After that, I was forced to listen to terrible songs like Wicked and Used to This while on a car ride to Houston. I honestly thought my friends were listening to him sarcastically because he was really hard to understand and generally terrible. After I realized they thought it was good, I started to question if my friends have good judgment and should be trusted when it comes to their opinion.
He hasn't done anything ground breaking; he is a trap artist and that is all he is. He isn't trying to put a message behind his music, or even create revolutionary music. All of his songs have to do with drugs, cars and/or money. In short, he is definitely not the future, but I think that everyone has the ability to have a turnaround. Just look as Ed Sheeran — he used to be an acoustic folk singer, and now he is a pop musician who uses the acoustic guitar as his main instrument.
Future's newest album is creatively named FUTURE, which is not to be confused with Future's previous album, Future, which came out in 2015. This shows you how creative you should expect this album to be. I did not expect much from this album seeing how much I don't care about Future, but I was excited when I saw there was a song called "Draco" and then severely let down because it had nothing to do with Harry Potter. And before we get into the songs, I need to confess something important. After listening to enough songs, I stopped listening because all of the songs were too boring, similar and stupid. I am not exaggerating when I say they all sound the same. They all use the same bass pattern, they all use the same two instruments — I think it's a drum kit and the triangle — and they all have Future's terrible auto-tuned mumbling.
Future is definitely not for me, and I don't understand the new trend. The trend I am referring to is the mumbling generic trappist. Future, Young Thug, and Desiigner all follow this trend of writing, or in their case, buying, lyrics that are as generic as their personality and mumbling through them all on top of a generic beat. Lyrics, beats, and good singing just sat to the side last year seeing how songs like "Panda", "Work" and "Black Beatles" hit number one on the U.S. charts, and I don't understand how it came to this. Last year was a terrible year for hip hop and rap, and Future's FUTURE has continued that with his newest album.
Leave a Comment