Big Sean debuts newfound maturity in his fourth studio album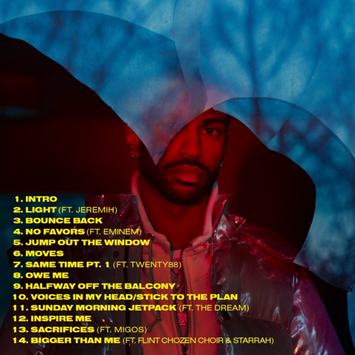 Big Sean released I Decided, his fourth studio album on Feb. 3, furthering himself from the reputation he has had in the past for well-produced music that lacked a message. In I Decided, Sean tells a story and gives his listeners a message about his beliefs and ideals, delving into a newfound sense of maturity in his music.
While there are songs on the album that more closely resemble his previous sound and style such as his chart topping single, "Bounce Back," there are many tracks that gave a glimpse of Sean that he has not previously shown to his fans. The first track, "Intro," is not a song, but the voice of an elderly man who is presumably Sean in an alternate reality. On the album cover, there is a picture of Sean with the reflected image to the right, except the man is older. "Intro" tells his gratefulness for where he is and what he has been able to do, because the alternate version of himself hasn't had the fortune and fame he has achieved here. In "Halfway Off the Balcony," he talks about how his job is more than just for the money and girls, squashing the assumptions made about him from his prior music. But while Sean's first attempt at becoming more of a meaningful artist is liked by some, is not as popular with listeners as his previous albums.
Features such as Eminem, Migos and Jeremih contributed to making some of the tracks more interesting and gave different styles and sounds to the songs they were each respectively on. But Sean is often beat out by other rappers, even those featured on his own album. With the release of so many rap albums such as Future's HNDRXX and Future, which were both released within a two week period, and Migos' album Culture, Sean's I Decided has been overshadowed. These number one albums by artists far more popular than Sean have put his album on the back burner, but with his evolving music maybe he'll have better success with his next album.
Leave a Comment