Junior Jack Stenglein rewarded for helping APUSH students with online quizzes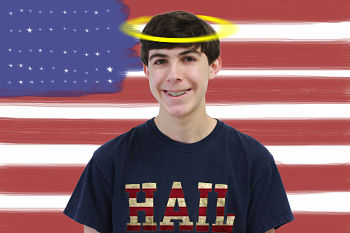 How much is a good grade worth? $20? $50? $500? Well maybe not that last one, but the going rate for helping fellow students earn those grades seems to be $100. Junior Jack Stenglein was surprised when he was on the receiving end of his fellow students' gratitude because he made a quizlet for nearly every AP U.S. History test, saving the grades of countless APUSH students.
"I walked into my APUSH class and my teacher Mrs. [Katie] Hensle handed me a gift card for  $100 from Mrs. [Cathy] Cluck and her class with another card signed by a bunch of other students in APUSH," Jack said.
But Jack didn't do it for the fame or the money — he did it for himself. And ended up helping countless people pass the AP U.S. History course.
"I just did it so I could help myself study," Jack said. "I like studying like that, where something quizzes you, where I'm not just reading it from a textbook. It really helps. I am happy they were able to help themselves, too."
But some juniors believe that Jack deserves credit for helping so many people, both in-class, and on the AP U.S. History exam.
"[Jack Stenglein's] quizlets helped me a lot on tests and the APUSH exam," junior Trevor Brown said. "[Jack] is like the Jesus of the U.S. history department, the savior of pretty much everyone's grades."
Some people recognized Jack during the APUSH exam and thanked him for his hard work, and while he may not know exactly how many people he has helped, he knows it's no small amount.
"During the U.S. History AP two people came up and said thanks for the quizlets," Jack said. "I don't really know how many people use my quizlets, but I would say most of the APUSH students."