All it's quacked up to be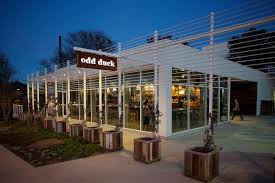 With my family, dining out is more than just an evening, a meal and a car ride back home. Both of my parents work, and my younger brother always arrives late in the evening after his baseball practice ends, and so dinner with us is rarely a traditional sit-down meal. My mother cooks, and we all hang around the kitchen, passing through to eat, or doing our homework at the table together. That being said, eating at a restaurant with the four of us all together is a true family bonding experience, however cliché that sounds. My whole family is passionate about good food, and we're always looking for the next new place. This past Mother's Day found us at the Odd Duck, and although I was ultimately left with mixed feelings, the experience itself was unforgettable.
The restaurant was beautifully designed. The walls were almost entirely glass paneling, and clean white beams supported potted plants on the outside. Within the place, almost every piece of furniture was made out of a cozy, worn wood that added a nice contrast against the steel accents on the ceiling. We ended up eating outside, which was quite lovely. Modern lights were strung up, and the view of the side street provided for an urban feel. The quirkiness of the restaurant extended beyond the kitchen, as each of the employees was interesting in his or her own right. Our waiter in particular was wearing a paper boy hat and carried off a highly impressive beard. The service was great, he made excellent recommendations, and our food arrived in a timely manner.
I would almost equate this to a tapas-style meal. The plates are fairly small, and our family of four ended up ordering seven. Award-winning chef and Westlake grad Bryce Gilmore delivers some very odd concoctions. I have to say that. We were there for brunch, so the menu was slightly different — however the most memorable dishes were definitely the soft shelled crab with curried egg and mango relish, and the duck eggs with oyster mushrooms, potatoes, Brussels sprouts and cheddar cheese. It's important to note that I myself do not have a sophisticated palette  —  I'll take mac 'n' cheese over duck eggs any day  — so I have to admit that I didn't love the food. I found the flavors to be too strong and too conflicting. However, the rest of my family thought each dish was ingeniously put together. Their overall verdict was one of complete satisfaction.
Odd Duck is on the more expensive side, as prices range from around $9 to $20 per small plate. However, this was more of an event than any other meal I've had in a while. Located at 1201 S. Lamar Boulevard, this is a once-in-a-blue-moon dining experience.
Open for lunch Monday – Friday from 11:30 am – 2:30 pm, for dinner Sunday – Thursday from 5 pm – 10 pm and Friday – Saturday from 5 pm – 11 pm and for brunch on Sunday from 10:30 am – 2:30 pm.