Daughter of Smoke and Bone impresses with unusual love story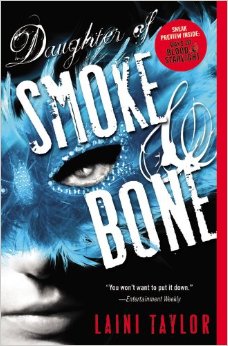 This book has everything. Want an incredible romance story? It has it. Want an adventure? There's that as well. What about incredibly interesting mythology? That's the main plot line. This book is about an angel and a devil falling in love in the midst of a 1000-year-old war. However, angel and devil aren't really the right words. The angels are called seraphim, and don't actually have any contact with a higher being, and the demons are called chimaera, which are animal and human hybrids. The war begins when the chimaera rise up against the seraphim, who enslaved the chimaera and colonized their world, called Eretz. The story begins with Karou, a girl living in Prague. She was raised by chimaera, although she doesn't know anything about her past. Later on the seraphim are introduced through Akiva, a merciless being who was made hateful and cruel by the loss of a loved one, and is working against Karou's "family." It's hard to tell more of the plot without giving away some major spoilers.
This book is incredibly well-written. It manages to write a love story without many horrible cliches, and the cliches it has are dealt with so well that they do not come off as annoying or overdone. The characters are three-dimensional and interesting, and whether or not readers are able to like them does not affect their relevance to the story, or their ability to generate empathy. The book switches off points of view, mainly between Karou and Akiva, but also adds some other side characters to really widen the scope of the story and make the reader invested in every part of this world and every species living in it. The plot is engaging, and moves along at a pace that is easy to understand but fast enough to keep readers reading. The writing style is filled with symbolism that is hard to catch, which makes it even more interesting when one stumbles upon it.
This book handles topics like the cycle of violence and the impact of hope in an environment of war in a very heartfelt and touching way. It talks masterfully about how both sides have committed horrors, and keeps the reader wondering how they could ever reconcile with so much between them. The reader truly feels the pain of the characters and the pain of a land and a people that has been torn apart by hatred. One of the main themes of the book is the theme of redemption in the face of large-scale wrongdoings. The character's quest for forgiveness will have everyone rooting for a happy ending.

This book is the first in a trilogy, and the second book is, so far, as good as the first. I highly recommend this book, although it is not for light reading.