Lorde Rules at ACL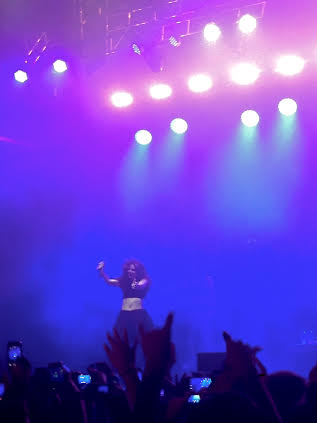 Being packed in a crowd like sardines with minimal room to breathe, being pushed violently by 20,000 sweaty bodies and getting your mud-drenched feet stepped on every other second may not sound like a sought-after activity on any old day. But, when awaiting the arrival of the dazzling Lorde at the Austin City Limits Music Festival, that is what you must do.
As I made my way to the RetailMeNot stage three hours prior to the highly anticipated show, I assumed I would be able to calmly maneuver my way to the middle of the crowd. I expected my fellow Lorde fanatics to be friendly and charitable; we're on each other's team, right? Wrong. The second that electronic band Chromeo ended, it was complete chaos. An enormous weight began forcing me forward. There was no stopping it. What had been a cool fall day turned into a body-heated sauna. The only thing keeping me from collapsing, fainting, or somehow crawling out of the crowd was the fact that I would be witnessing first-hand the one and only Lorde in less than an hour. The moment I had been waiting for since the announcement of her attendance many months ago was finally within reach.
It was 6:55 p.m., five minutes before her performance, when the scattered screams began to erupt. Four minutes later, the chanting. And then: "There's a humming in the restless summer air." The crowd exploded. There she was, in all her splendor, standing before our very eyes.
She began the show with "Glory and Gore" and continued with her clever perspective of cliques — and my personal favorite — "White Teeth Teens."
After a few more songs about society and the suburbs, it was time for a momentary costume change into her majestic white robes. She then took a moment to reminisce on the journey she had been on in the last year, reminding us that Austin was the special place where she had begun and was about to end her North American tour.
"Six months ago, I was terrified of growing up, but now it's so beautiful, so great, because of you," she told the crowd before launching into "Ribs," a song about growing up that anyone who is, or has ever been a teenager, can relate to. By the time she got to the Kanye cover, "Flashing Lights," everyone was dancing.
She ended her set belting out mega hits "Royals" and "Team," with new single, "Yellow Flicker Beat," in the middle.
Every expectation that an extreme fan, like me, could have had was lived up to. Lorde conquered the stage with her dramatic hair flips, spastic dancing and edgy voice, putting me in a dream-like state for the entire set. She played to the back of the crowd, while at the same time maintained intimacy and familiarity, taking her time to tie her shoelaces, or to remind us how new this immense fame was to her. So, when she took her final bows and asked the mass of jammed-packed misfits to "cheer louder than [we had] ever cheered before," that is exactly what we did.
Leave a Comment