Foster the People diversify their music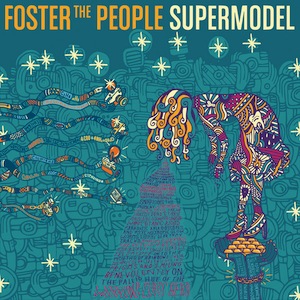 Compare Foster the People's new album, Supermodel, to their other one, Torches, and it's hard to believe that the same band made both. Torches (2011) was chock full of repetitive songs and, while fun, the album lacked diversity and all of the songs began to blend together. Supermodel, however, is completely the opposite. The band retains some of its old style, but instead of the beats at the beginning of every song and a similar sound throughout, the music seems more like a mix between Passion Pit and The Shins. Not only that, but the band also utilizes guitar and its lyrics better than it did on its previous album.
The first single released from Supermodel, "Coming of Age," is fun, and the theme of confusion is shown prominently, but it sounds somewhat similar to Foster the People's old songs, particularly "Waste," except with more emphasis on guitar and drums. The second single released was "Pseudologia Fantastica." The entire song feels light, but the chorus becomes more substantial when the singer, Mark Foster, asks, "Why'd you say that you'd come right back?" The forlorn tone of the song adds to the album's general theme of uncertainty and loss of youth.
The third and final single released, "Best Friend," is somewhere between "Coming of Age" and "Pseudologia Fantastica" in terms of tone."Best Friend" is easily the best song on the album, because it incorporates everything good about Foster the People. It includes the fun music from "Coming of Age," but sounds less similar to Torches. On top of that, the melancholic lyrics seem like "Pseudologia Fantastica" when Foster says, "I've carried more than I can / I feel I've got a lot to prove." The mix of these two may seem disjointed, but on "Best Friend," Foster the People somehow makes it work.
My favorite song was "Fire Escape," the final track on the album. It had previously seemed like acoustic was completely out of the question for Foster the People, but "Fire Escape" makes me want an entire acoustic album. The band drops its dance and party feel and matches its lyrics to music, creating a haunting but lovely tone when Foster urges the listener to "save yourself." The song is by no means the best on the album, and the metaphor that he is a fire escape is pretty cheesy, but regardless it brings emotion.
Supermodel was a great album from start to finish, and it seems like a great starting point for a more diverse sound for the band.
Leave a Comment