Girls varsity soccer succeeds in tournaments, preparing for District play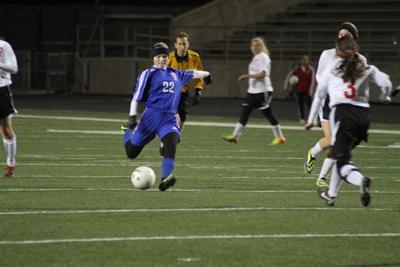 On Jan. 16, the 22 girls that make up the varsity soccer team traveled to Katy, Texas with high hopes of succeeding in the Spartan Bracket Championship. On Saturday afternoon, they met those high hopes when they recieved first place after winning the last bracket game against San Antonio Johnson.
It comes as no surprise that varsity girls soccer is having another successful season. Coming off last year's season one game shy of being undefeated, ranked number one in the nation for several weeks and a qualifier for Regional finals. Despite the new season and new players, two of whom are freshmen, there is still room for the team to continue the inherited legacy with their current pre-District record of 4-2-1.
"All games are important to our continued development of the team," head coach Rennie Rebe said. "We travel to tournaments to play quality competition to identify our strengths but, more importantly, expose our weaknesses."
Outside left midfielder and left defender junior Kendall Ritchie has been on varsity for three years, and has seen obvious proof of the team's potential.
"We've had players who have stepped up this year and really made a difference," Kendall said. "We've become a solid team who knows each other really well."
Thirteen District games against the common rivals will decide the team's success in District. If they do well, there will be an opportunity to advance into the playoffs.
"If we want to be successful for the rest of the season we need to simply remember to play our game," goalie senior Kalli Douma said. "When we play their style or we play down to their level we will not get the result we are looking for but if we play to our style we will absolutely be successful."
Despite the upcoming competition, center and left midfielder sophomore Olivia Norman has enjoyed the lifestyle that comes along with being on the varsity soccer team.
"Practices are tough but everyone works their hardest and doesn't complain," Olivia said. "Everyone is very superstitious. We sit in the same seats on the bus going to every game and there's girls just dancing in the isle having fun."
Leave a Comment