Choir bonds on annual retreat to Mo Ranch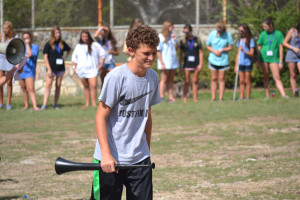 Squad Tribal won second place in the squad awards. The awards are based on points the squad gets through Molymipics and level of spirit.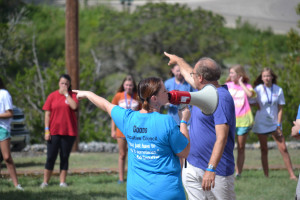 "Wasn't Mo Ranch excellent this year?"
"Mo Ranch is always incredible, but this year easily topped all the others!"
These were snippets of conversation flowing through the choir hall on  Sep. 9 as member after member of the choir chatted  about their experiences at the Mo Ranch choir retreat Sept. 6-8.
"Everyone is so nice and they reach out to you," freshman Emma Campbell said. "They make you feel included in everything. I've gotten a chance to bond with everyone. I liked it all so much."
Some of the activities for the weekend included Molympics, in which the 12 squads partook in team-building games such as a swim race and canoe racing, and an all-inclusive talent show called Mo Talent. As a first time attendee at Mo Ranch, Emma said she felt that the best activity was time spent with friends.
"I liked hanging out with our bigs [sisters and brothers] and swimming with our friends," she said.
Junior Molly Rapozo reflected on the mutual and obvious respect that the underclassmen and upperclassmen share for one another.
"Seeing how we, as upperclassmen, influenced the freshman and sophomore decisions on how they acted and treated everyone else, was just really cool," Molly said. "It's cool to see the roles reversed and the influence we have on the younger ones."
Molly said her favorite part of Mo Ranch was the family aspect.
"I liked the teamwork part of it and how the squads really came together," Molly said. "Everyone just starts becoming a team, a family, whatever you want to call it."
Those sentiments were echoed by Westlake's choir director Ed Snouffer, who has been a part of the Mo Ranch trip for 18 years. He carried on the tradition that began 30 years ago.
"The director at the time felt that it would be a good thing for students to spend time together, to get to know each other and the design of it was just to allow kids to get to know other students," Snouffer explained.
Snouffer spoke about how members of the choir evolve after the retreat.
"They feel that they have other students on this campus that they have things in common with and that they can talk to," Snouffer said. "I think that through the whole sharing of music … the bond is strengthened."
Senior Luke Rowan, who helped lead a squad of 35 freshmen, sophomores, juniors and seniors, explained that, for him, the trip was extra special – but not just because he was a senior.
"There's obviously merit in being a senior, but every year was fun. In other activities, being a senior is more important, and in choir, everyone is on a level playing field. I think it's better being a squad leader because you get more say. They do a good job of making it all about fun," Luke explained.
He also explained that the bonding experience was invaluable.
"The culture of choir is so loving, and it's just a really good environment to be in no matter what other activities you're in," Luke said. "Mostly, it's just bonding with everyone in choir, no matter what age. I made more friends than I would have if I hadn't gone to Mo Ranch."
Emma, Molly and Luke were only three out of hundreds of students affected by the positivity of the retreat. The following Monday, the conversation flowing through the halls was reminiscent of a huge family reunion as stories were exchanged, memories were stored forever and the countdown to the next year already began to commence.
"I think that's the main point of Mo Ranch," Luke said. "We go there and we have a couple required things we have to do, but mostly it's just bonding."
View Comments (1)