Sydney Zhou and Annakate Kelley
Hyline won every category it entered Feb. 11 at Westwood High School's annual dance competition. "[We won] best in contest for the team and the officers, best in medium...
March 31, 2017 • No Comments
On Feb. 16-19, 27 students attended the North American Invitational Model United Nations conference in Washington, D.C. Of approximately 3,500 students who participated in...
March 29, 2017 • No Comments
Recent News Stories
Star Steppers discuss recent win at first competition
March 23, 2017
Star Steppers won a competition Feb. 11 at Westwood High School. The dancers competed in jazz and an optional contemporary...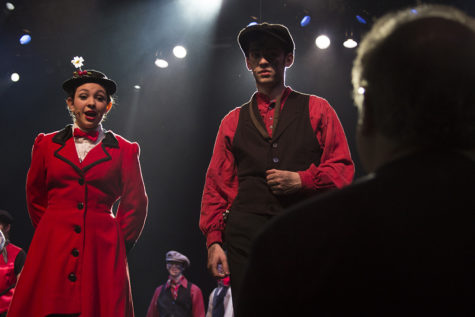 March 8, 2017
While audiences were enthralled with the recent production of Mary Poppins, some might not have known that the...
ASL Club to deliver roses, carnations on Valentine's Day
February 9, 2017
Continuing their annual Valentine's Day tradition, the American Sign Language Club will be selling flowers up...
View All »
Inside, senior Heather Vanderloo was anything but calm and composed as she walked up to the penalty spot to take Steele's first sudden death penalty shot. But outside, she...
April 5, 2017 • No Comments
Yearly Chap Relays bring more successes to track and field
March 29, 2017
It's a chilly Saturday at Westlake High School and the stadium is buzzing with excitement. As a gunshot sounds, eight runners take off on the track to lead off their relay....
Varsity boys soccer wins first playoff game
March 28, 2017
Boys varsity soccer played host to Robert E. Lee High School from San Antonio in its first playoff game. Despite the fact that Westlake finished the regular season with a...
Varsity tennis wins in its fourth tournament
March 23, 2017
Varsity tennis had their fourth tournament, The Unicorn Open, on March 3-4. In the end, the Chaps won the tournament by a healthy margin, which was a big confidence booster....
View All »
Photo Gallery
Polls

Loading ...