Varsity football takes it to Belton for second straight year, wins season opener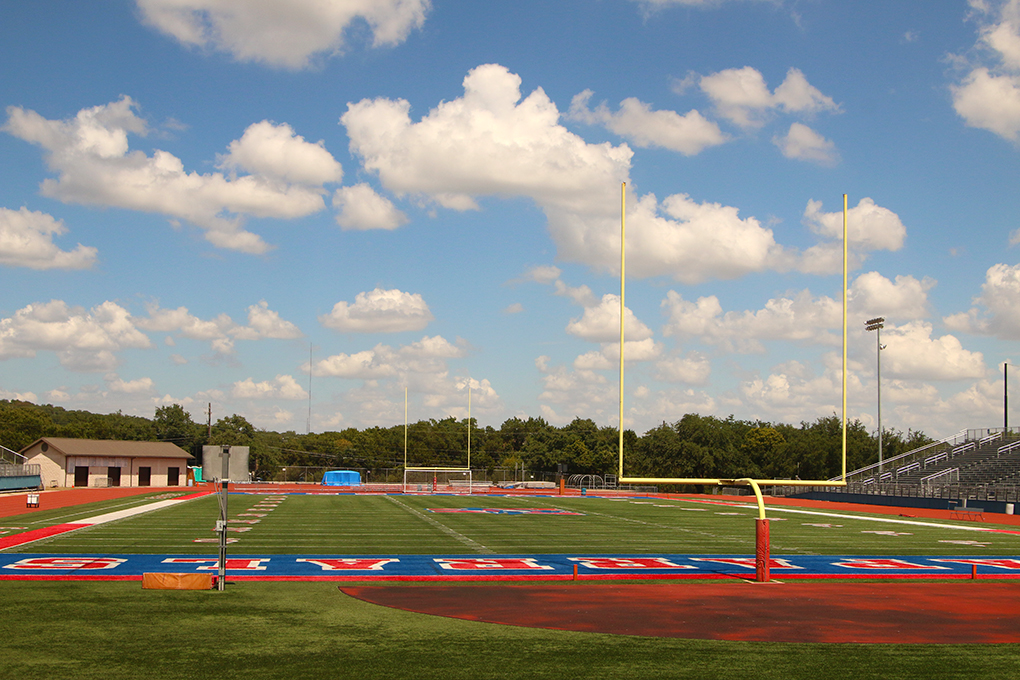 New and old faces took to the sidelines of Ebbie Neptune Field, some looking to prove their worth, others looking to continue success from last season. Whether experienced or not, head coach Todd Dodge was determined to give them some sort of play time if possible, and, in what shaped up to be a blowout win over Belton, he was able to do so. All four quarterbacks on the roster saw game time, and the Chaps ran away with their season opener, handling Belton 48-0. 
"All of our kids who work their tails off deserve to get in," Dodge said. "Any time we get a chance to clear the bench is a good thing." 
The coaching staff started off the season with a clear gameplan: full steam ahead. Quarterback senior Kirkland Michaux began the game for the Chaps at quarterback, leading an aerial assault on the Tigers defense. Despite last season's lopsided result away at Belton, the team stayed disciplined in its preparation for the game.
"We didn't look at last year's [Belton] team and expect that," he said. "[Any time] we play the same team, we don't go into it thinking about last year. We knew they were good this year and we prepped for them just as hard as we prep for any other team."
Starting strong, the Chaps scored on their first drive with a screen pass to wide receiver senior Ryan Lindley taken 25-yards for a score. It was Lindley's first varsity touchdown for Westlake after having served a one-year suspension from play last season due to his transfer status. He served as a valuable replacement for the injured wide receiver senior Jackson Coker, who is looking to return late in the season according to Dodge. 
"[Coker] is such a rock for our team," Dodge said. "He does a great job of leading even when he's not playing. Every week is a better week, and we hope towards the end of District that we will get him back." 
Wide receiver freshman Jaden Greathouse made his varsity football debut, surprising many with his on-field maturity. On five catches, he had 72 yards receiving, taking a pass 24 yards to the house to make the score 41-0 with 6:55 left in the third quarter. 
"In all of my 34 years of coaching, I've never even entertained playing a freshman on varsity," Dodge said. "I told him we were going to take him through training camp to see how he [would do], and he never blinked an eye. Physically, I knew he could hold up, he made some big plays tonight."
Next Friday's rematch game against Cypress Ranch is the next thing on the minds of the players, as the Chaps look to avenge last season's shock home loss. 
"We're ready to get after them and get a W," Michaux said.
Leave a Comment